Club Rancho Sahuarita
When you decide to live in Rancho Sahuarita, you are opening up a whole new world of fun – for you and your family, young and old – and it all starts at Club Rancho Sahuarita.
Club Rancho Sahuarita is a place built with the entire family in mind. With activities for every age group, there's no better place to stay active and build community than at Club Rancho Sahuarita. Bursting with more than 220 events, programs and more, there's something for everyone happening here.
Club Rancho Sahuarita features a full fitness facility (with cardio and strength equipment, free weights and more), meeting rooms, children's facilities, athletic courts, a playground and Activities Lawn, mini putt-putt course, a full lap pool, the Anza Sports Bar and a Splash Park complete with water slides.
Pools
Club Rancho Sahuarita features the Splash Park which houses over 300 feet of water slides and the famous "Big Bucket", which dumps water onto the heads of laughing little ones every few minutes.  There is also a lap pool and tot pool which are both heated and open for year-round swimming.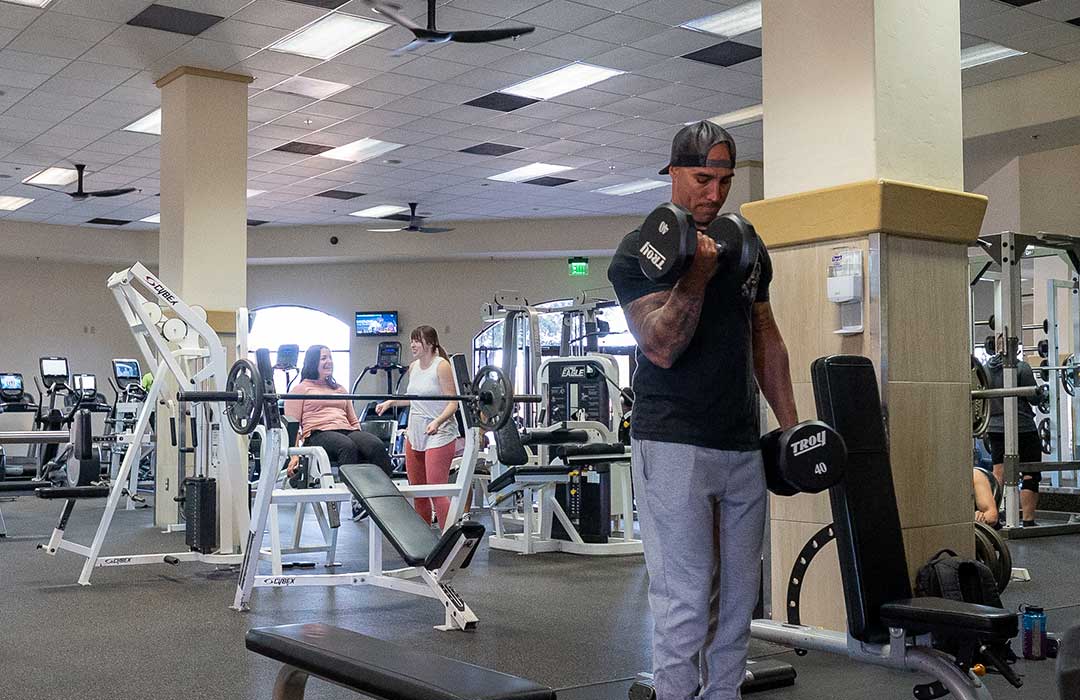 Fitness Facility
All residents of Rancho Sahuarita have access to a 5,000 square foot gym and workout space, complete with cardio and strength training equipment – open 7 days/week for convenience.  With such an expansive selection of equipment, members are sure to find the perfect workout routine that fits their needs! 
Kids Club
The Kids Club consists of a Pre-Teen Room for children ages 6 to 12, and Kids Time for our smallest residents (ages 4 months – 6 years). Both provide fun and engaging time for children, while parents are able to squeeze in a workout or catch up on some work.
As part of the Kids Club at Club Rancho Sahuarita, we offer a variety of special events, classes, programs and camps for children throughout the year. Resident favorites include Story Time for Tots, Toddler Camp, Be Well Summer Camps, Fall and Spring Break Kids Camps and more.
Kids Time
While parents are using the Fitness Center or catching up on work, residents can leave their children in the hands of our caring staff. Kids Time offers supervised child care at a cost of $3.00 per hour per child (limit of two hours). (Parents are required to remain on the premises.)
Health & Wellness
Enjoy over 35+ free fitness classes offered weekly, featuring: Yoga, Spinning, Zumba, Cardio-Kickboxing, Circuits, and Sculpt. Our classes are designed for all levels, so you can jump into any class and have a great workout. We pride ourselves on offering classes that challenge each individual but are also fun and engaging.
Additional Events
Holiday celebrations
Festivals
Food truck roundups
Open-air concerts
Saguaro Club events
Community yard sales
Farmers markets
Happy hours
Coffee socials
Seminars and lectures
Additional Programs
Residents are also able to participate in special programs, including Tennis Lessons, Taekwondo, Storybook Dance and more. These programs are available through our partnerships with independent instructors and take place at Club Rancho Sahuarita.